The Ultimate Pre-Listing Timeline for Selling Real Estate Properties
Posted by Tracy Tang on Wednesday, June 14, 2023 at 2:45 PM
By Tracy Tang / June 14, 2023
Comment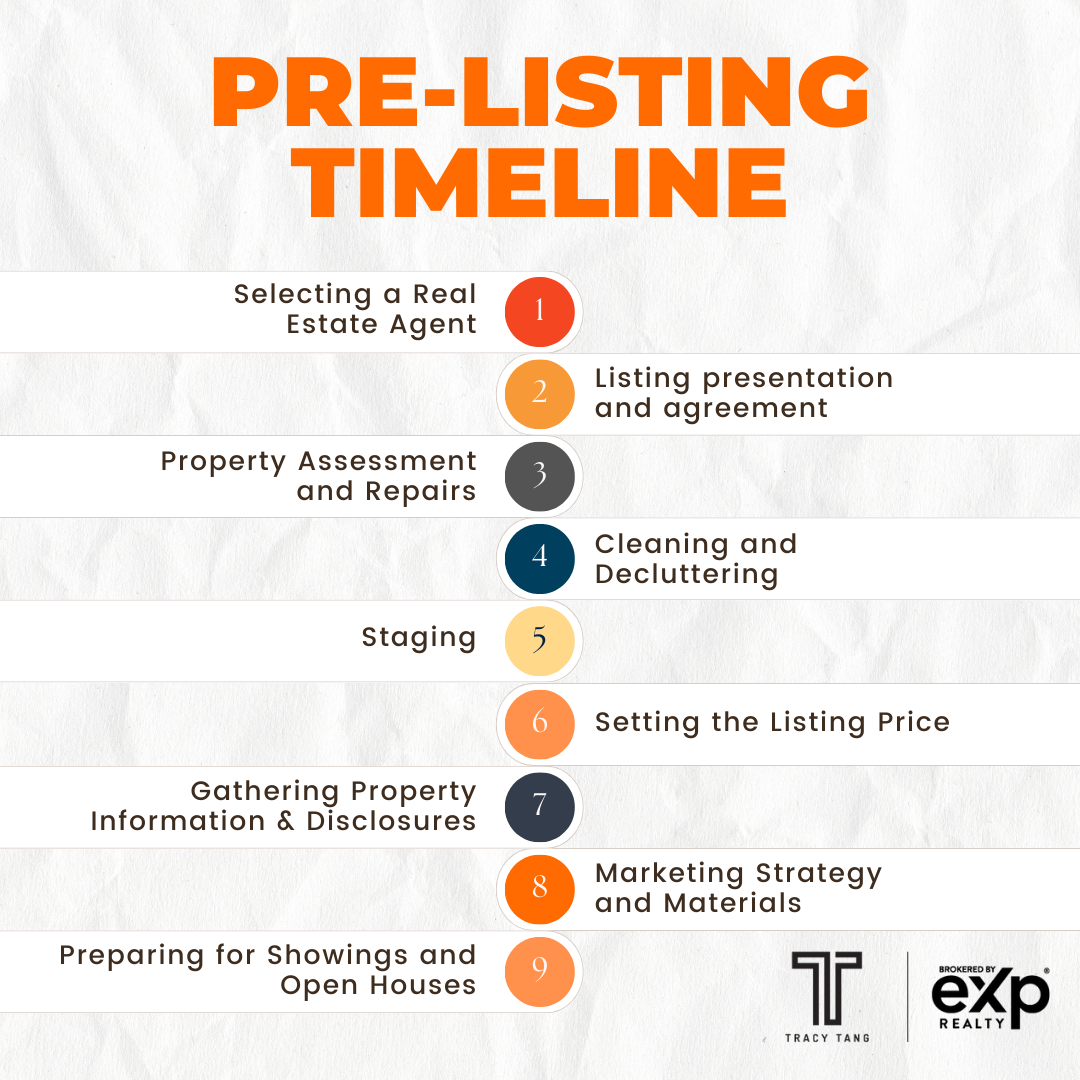 Selling a property requires careful planning and preparation to ensure a smooth and successful transaction. By following a comprehensive pre-listing timeline, you can maximize your chances of attracting interested buyers and securing a desirable listing price. In this blog post, we will guide you through the essential steps involved in preparing your real estate property for sale.


Selecting a Real Estate Agent: Research and interview potential real estate agents to find one who specializes in your area and has a track record of successful sales. Take your time to find an agent who understands your goals and communicates well. This process may take a few days to a couple of weeks.

Listing Presentation and Agreement: Assess the condition of the property and identify any necessary repairs or renovations. Plan and schedule the tasks required to enhance the property's appeal. This may involve hiring contractors, painters, or other professionals. The duration of this stage can vary based on the extent of the work needed.

Property Assessment and Repairs: Dedicate time to thoroughly clean the property, both interior and exterior. Remove any clutter, personal items, or excessive furniture to make the space look more spacious and appealing. This stage may take a few days or longer, depending on the size and condition of the property.



Cleaning and Decluttering: Consider hiring a professional home stager or work with your real estate agent to stage the property. Staging involves arranging furniture, decor, and accessories in a way that showcases the property's best features and helps potential buyers envision themselves living there. The staging process can take a few days to a week, depending on the scope of the staging and the availability of furniture and accessories.

Staging: Collaborate with your real estate agent to determine the optimal listing price for your property. They will conduct a comparative market analysis (CMA) to evaluate similar properties in the area and assess market conditions. This stage typically takes a few days to a week.

Setting the Listing Price: Compile all the necessary documents and information related to your property, such as property surveys, title deeds, tax records, utility bills, warranties, and maintenance records. This may take a few days to gather everything.

Gathering Property Information and Disclosures: Work with your real estate agent to develop a comprehensive marketing strategy for your property. This includes creating enticing listing descriptions, professional photography, virtual tours, and other promotional materials. Allocate a few days to a week for this stage, depending on the complexity of the marketing plan and the availability of photographers.

Marketing Strategy and Materials: Review and sign the listing agreement with your real estate agent. They will provide you with the necessary disclosure forms required by law. Take time to carefully review these documents and seek legal advice if needed. This stage typically takes a day or two.

Preparing for Showings and Open Houses: Collaborate with your agent to schedule showings and open houses. Ensure the property is clean, well-maintained, and readily accessible for potential buyers. Continuously maintain the cleanliness and appeal of the property throughout the listing period.
Remember, this timeline is a general guide, and the duration of each stage can vary depending on factors such as property size, condition, market conditions, and personal preferences. Working closely with a trusted real estate professional will help you create a tailored pre-listing timeline for your specific property.