California Market Update - Sept 20, 2020
Posted by Tracy Tang on Monday, October 5, 2020 at 6:30 AM
By Tracy Tang / October 5, 2020
Comment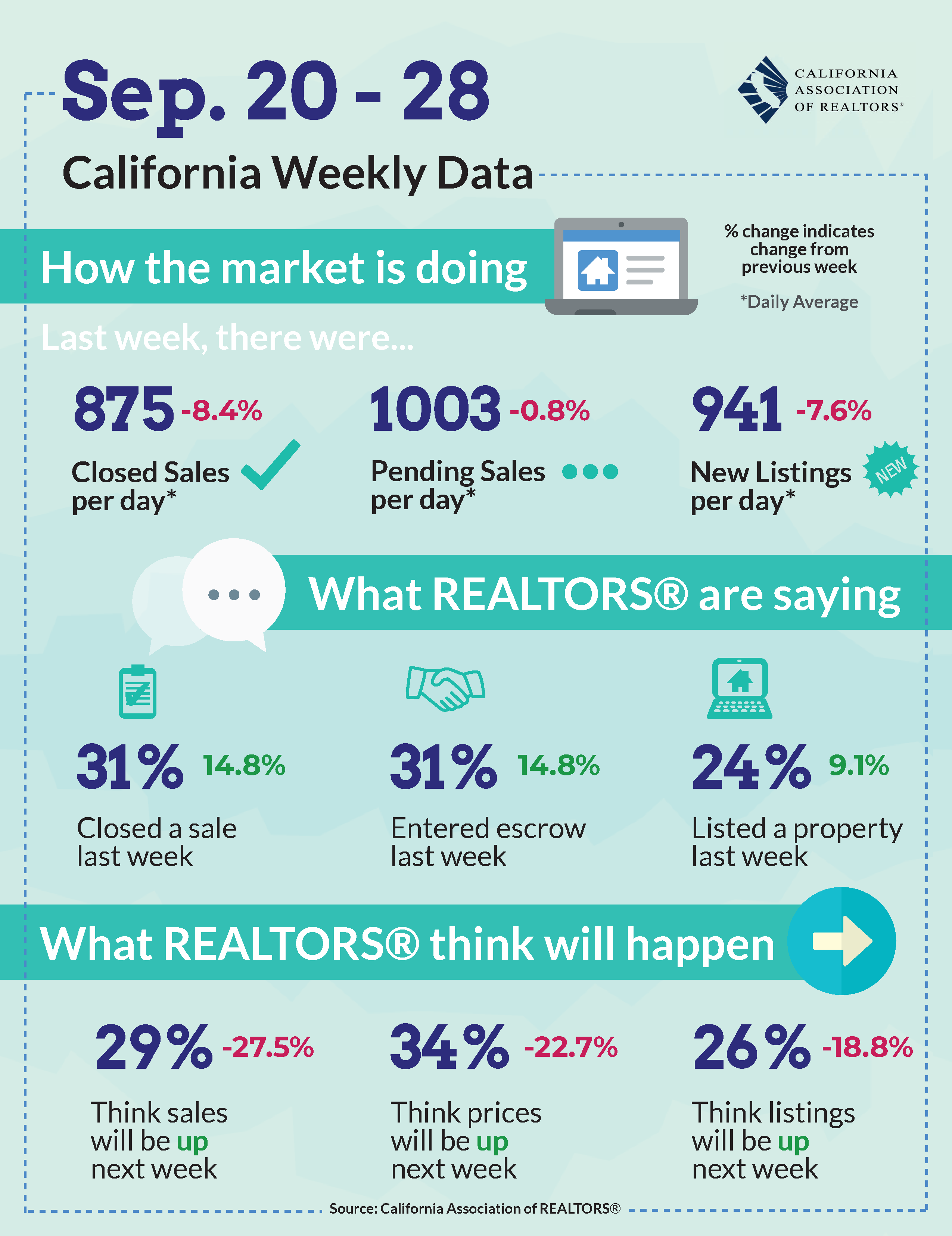 More positive economic data was released this week on consumers, buyer demand, interest rates, and new home sales. However, the pace of growth in labor markets has decelerated significantly, new unemployment claims increased last week and have seen the improvements slow in preceding weeks, and the weekly MLS data shows that the lack of inventory continues to weigh heavily on both pending and closed transactions.
Economically, Things Were Looking Up Last Week: New home sales rose to 2006 levels as interest rates remained near historic lows with a contract rate that averaged just 2.9% last week. This is also evident in buyer demand, as requests for private showings were more than 150% above 2019 levels last week. In addition, consumer confidence had its largest one-month gain in more than 17 years. This is important because consumer spending makes up roughly 70% of the economy.
Mortgage Apps Still 20% Ahead of 2019: Despite persistently high unemployment and ongoing headwinds owing to the pandemic, potential homebuyers have continued to apply for mortgages at a staggering pace. Although the number of applications fell slightly from the previous week, new purchase money applications were over 21% ahead of 2019's pace. The value of home, increased flexibility, and historically low interest rates are all conspiring to extend the typical homebuying season well August.
REALTORS® Reported A Stronger Week: Consistent with the improving macro environment, more California REALTORS® saw their business prospects improve last week as the number of respondents with a listing appointment increased 1.0%, listings on the MLS increased 9.7%, and the percentage of members entering escrow last week jumped 18.4%. The percentage of REALTORS® that closed a transaction last week also increased by 18.9%.
Fewer REALTORS® Feeling Less Optimistic About Future: Despite reporting a strong week in business activity, California's REALTORS® were feeling more pessimistic about next week. The percentage of respondents who thought listings would increase net week fell by 18.4%. 27.3% fewer REALTORS® we spoke to over the weekend expected sales to rise this week, and 22.4% fewer expected prices to go up. The numbers are generally higher than they were two months ago, but the pace of improvement has started to slow consistently.
Sales Resume Downtrend After Strong Week Prior: The average daily closed sales dipped to 875 last week. That is 8.4% below where it was the previous week and represents the 3rd of the past 4 weeks when the number of closed transactions was falling. Although the $2-$3M and $5M + segments continued to grow, homes priced below $1M fell across all subcategories. With professional jobs being impacted much less than lower-wage jobs, more available inventory at the top end, and the stock market performing much better than labor markets, the luxury sector continues to drive the recovery.
Listings Shaping Up to Be Market's Largest Obstacle: Despite the fact that homes are selling extremely quickly with little or no discounting, the number of new listings coming onto the MLS each day declined last week. Overall, the number of new listings was down 7.6% from the week before. The declines were particularly pronounced at the bottom end of the market, but every price segment saw new listings fall except homes prices at or above $3M.
We continue to remain hopeful that the worst of the crisis is behind up, but recent evidence also suggests that the road to recovery will be quite long as the momentum continues, while the pace of that recover simultaneously sees the pace decline.
Contact Tracy today to find out more on what is happening in the market!
Information courtesy of C.A.R.